migrationlab and verein08 present
WELCOME TO THE LIVING ROOM
A workshop performance on show curated by Alice Stori Liechtenstein
Vienna Design Week - Austria's Largest Design Festival
September 25th - October 4th 2015
For 10 days we invited migrants, refugees, visitors and locals to join us in a series of workshops, cultural events and performances on migration in a very special setting. We co-created a public living room together with migrants, refugees and Austrian locals in the Brotfabrik, former bread factory transitioning to a cultural center in Favoriten, Vienna's largest urban district with a predominant immigrant population.
#MigrationSparksCreativity
Installation curated by designer Alice Stori Liechtenstein. Migrants, refugees and local Austrians built and personalised with paint, upholstery and fabrics Enzo Mari's famous Sedia 1 Chair, designed as an example of "Autoprogettazione" in 1974.
The furniture was arranged to give the feel of a living room, to encourage conversation and dialogue.
Photos: © VIENNA DESIGN WEEK/Petra Rautenstrauch/Kollektiv Fischka
Welcome to the Living Room: Exchange worlds. Re-discover. Re-connect
Laura M. Pana migrationlab and Pri Elamthuruthil Certified Yoga Teacher and Consultant for International Organizations (South India/Austria) conducted participatory workshops on the notions of home, belonging, acceptance, yoga and identity with students from Burgenland and international and local visitors.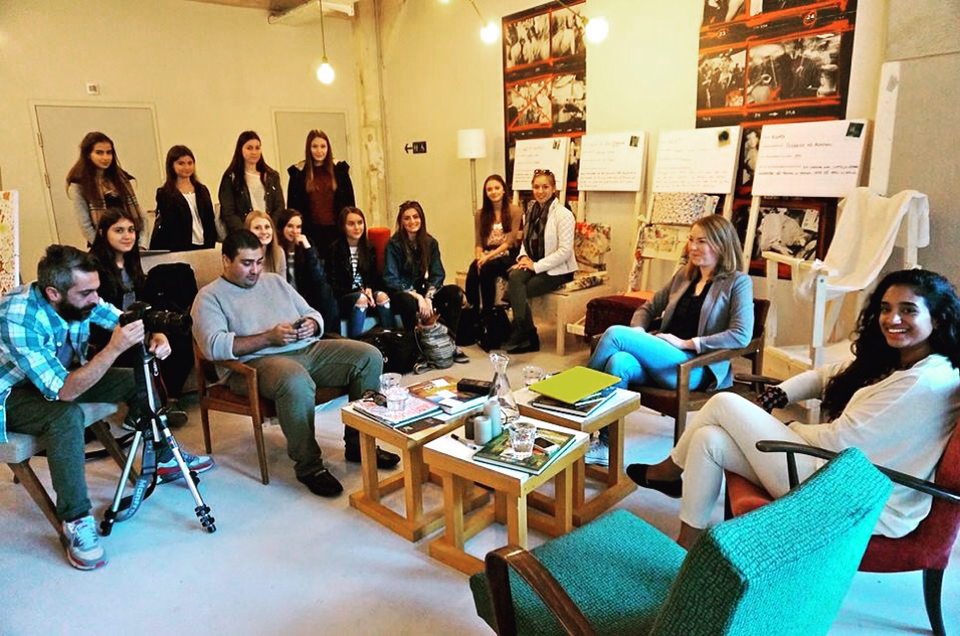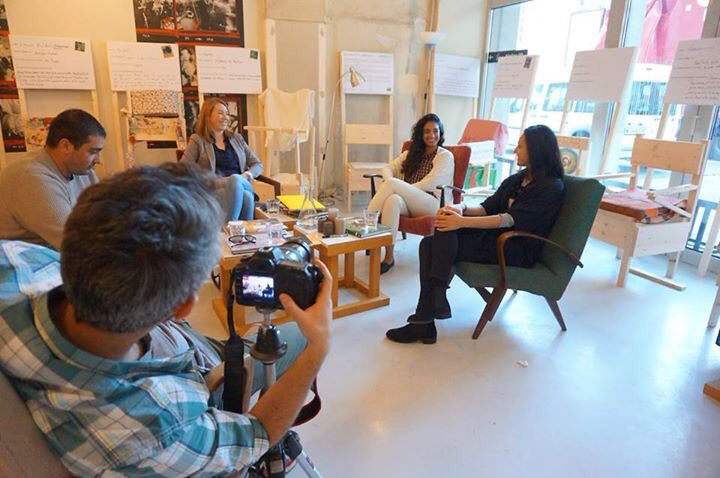 Verein08 - October 1, 2015
Hosts Storytellers
Camilo C. Antonio
Poet and UrbanNomadMixes Initiator conducted a rezitata performance of his identity poem as Caminante songs for the displaced traveller and emigré.
Beste Erener
Digital Artist, Turkey presented "Walkers" short video performance, in which fictional and real life stories penetrate each other.
Digital artist, Germany
On migration, fascism, neuronal-networks. What's the meaning of art? What's to be done? How can we perceive the growing development of technology, that's being used to target humans, defies rights, and inspires artists, in our daily life?
Pri Elamthuruthil
Certified Teacher Yoga and Consultant for various International Organizations such as UNIDO and the World Bank (South India/Austria)
On how she broke down her own walls and built bridges between her culture of birth (Vienna) and culture of origin (South India) through the practice of hatha yoga. To Pri, like yoga, identity is a mindful process that you must be active in.
Brotfabrik - October 2, 2015
Hosts Storytellers
SidY
Artist - DJ - Performer. On disappearance of the languages and his experience of co-creating our public living room.
Renee Benson
Musician - Performer, USA. On the notion of "stranger", "guest" and "being a professional nomad." Renee was also one of the Chair Makers in our public living room.
Natalia Hecht de Eichhorn, Argentina
Psychologist and community artist. Creator of "Paper Passengers"artistic intervention in which migrant women and black women in Vienna created life-sized paper doubles of themselves and migrated around the city to make their journey tangible and visible for themselves and others.
Performing Artist - Dancing with the "Paper Dolls"
Photo Credits: Sascha Osaka
EaRacingRace by UrbanNomadMixes
Performing artists: Camilo C. Antonio, UrbanNomadMixes initiator-facilitator; Alina Serban, Theater of the Oppressed performer; director / Ion Neculai, Illustrator / Gerhard Jagersberger and sa_hara, Kyudo and Tango dancers / Pri Elamthurutil, Certified Yoga Teacher / Dominik Nostitz, verein08 / Laura M. Pana, migrationlab
A series of original short poems in English "The Many Phases & Sights of Race" by Camilo C. Antonio were recited in our co-created public living room by performance artists dressed up and masked to image their alter egos or anti-heroes weaving their way through the installation space in dance movements as though impelled or entranced by musicians and videographers to tease the audience into dialogic interactivity.
Photo Credits: Vienna Design Week